The Text View¶
The text view displays the contents of a Chinese document with words highlighted based on whether or not a particular word exists in the active vocabulary profile.
You can have multiple different vocabulary profiles and switch between them as necessary, with all statistics and highlighting instantly updated to match the new profile. For more details see the section on Word Lists
The text view can give you an instant feel for how well you'll be able to read a document, and can also serve as a basic document reader.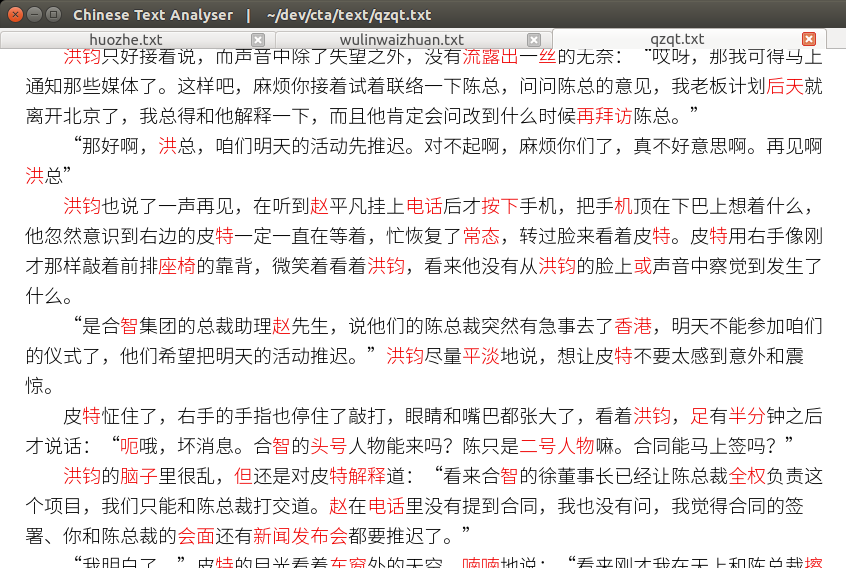 Mouse Commands¶
Moving the mouse over the text will highlight words and word boundaries.
Double clicking the word under the mouse cursor will toggle the word's status from known to unknown.
Holding the shift key and double clicking the word under the mouse cursor will show the definition of that word.
Keyboard Commands¶
You also navigate a document using the arrow keys to move up, down, left or right. If you are familiar with vi, then you can also use h, j, k and l to move left, down, up or right respectively.
Pressing <space> or t will toggle whether or not the currently highlighted word is known or unknown.
Pressing d will show the definition of the currently highlighted word.
Find¶
You can bring up a find dialog by selecting Edit -> Find from the menu, or by using the keyboard shortcut Ctrl+F
The find dialog can be used to find text within the document. You can also use it to find phrase patterns using '*' or '…' as a wildcard. For example, searching for 不但…而且 will find sentences such as:
不但没有天良,而且没有人性

不但要抄书,而且从今往后,衣服自己洗,饭碗自己刷
And so on.